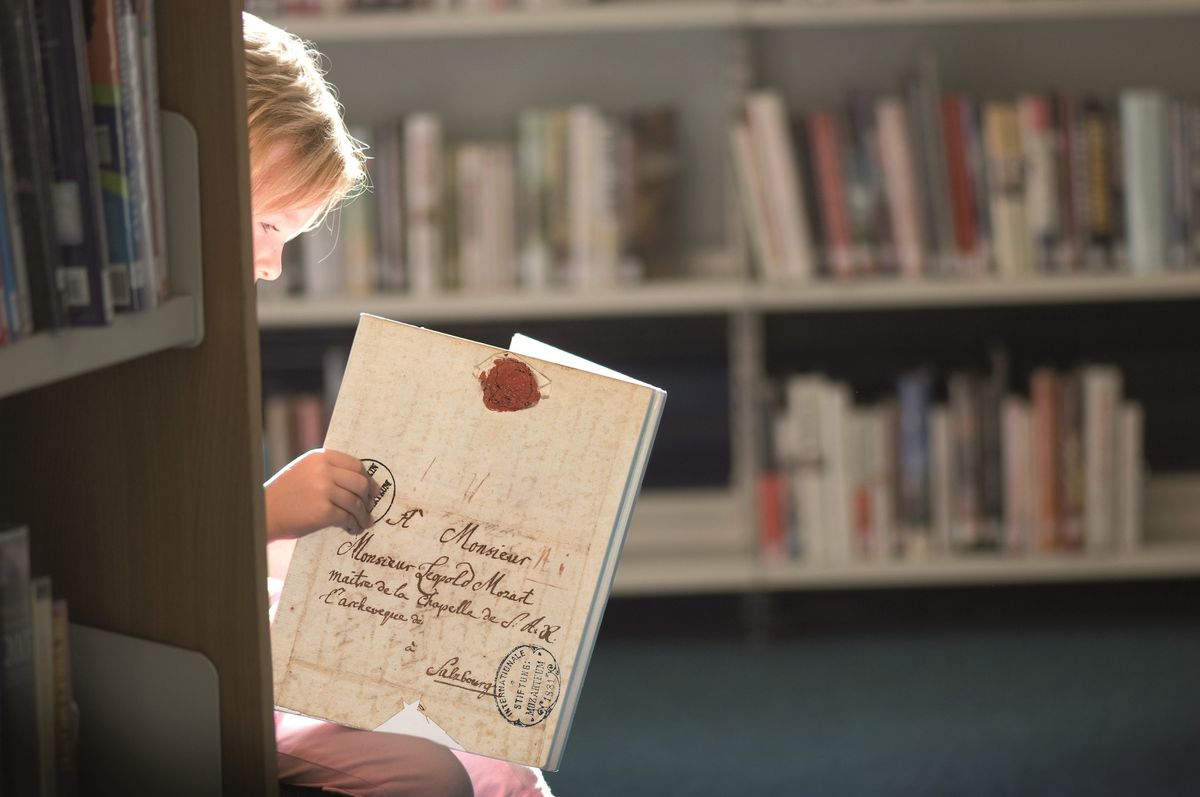 Activities
Some offers do not fit into any category – and that's a good thing. They find their place in our projects / activities, which are characterized by the fact that they allow new varieties with and about Mozart and create extraordinary encounters!
Rhapsody in School
for young people aged 12 and up
Experiencing musicians
This season, the Salzburg Mozarteum Foundation is again partner of "Rhapsody in School". This allows school classes to personally meet the artists performing at our invitation. The artists visit the participating classes at their school in the morning, and later the classes attend the artists' concert or dress rehearsal.
"Rhapsody in School" was initiated by pianist Lars Vogt. The project aims to bring musicians – who otherwise play on big stages – closer to their audience. Children get to hear the artists talk about what music means to them in a setting far from the orchestra pit and the media. Hearing them play and gaining insight into the life of a professional musician is an inspiring and motivating experience.
As school visits by artists can usually only be arranged at very short notice, please inform us if you would like to participate in "Rhapsody in School" with your class. If we have a musician who is available to visit your school, we will contact you.
Free participation
Date by agreement
Information and registration
Mag. Sven Werner
Schwarzstraße 26, 5020 Salzburg
Tel. +43 (0) 662 88 940 29
s.werner@mozarteum.at
Children's holiday week with Mozart
for children aged 7 to 12
 How long did Mozart live in Salzburg? Did he have his own bedroom? And did he have a pet? Is it true that he could play the piano blindfolded? And what did his first manuscripts look like?
These questions and many more are answered at the "Children's holiday week with Mozart" hosted by Salzburg Mozarteum Foundation in July. In the course of one week, workshops and guided tours take you inside the Mozart houses and behind doors that are usually closed to visitors, to the Mozart audio-visual collection and the legendary "Magic Flute House". You can try writing music with a real quill and ink and have the rare opportunity to accompany the "keeper of Mozart's treasures" down into the vault located under the Mozart residence.
Information and registration
Mag. Maria Erker,
Getreidegasse 9, 5020 Salzburg
Tel. +43 (0) 662 844 313 91
museum.service@mozarteum.at
Competitions
Mozart lives! – and brings people together!
Creative competition for teenagers and young adults aged 15 to 25
Mozart lives! And in his day he brought together people as a person and as a composer – whether musicians, writers, artists or your average Joe.
And even today, Mozart is alive and brings people together in many ways. The Salzburg Mozarteum Foundation is hosting a creative competition!
Who can enter?
Anyone aged between 15 and 25 years, individually or in groups of up to five people. Different project groups from one school class may also enter.
Scope
No more than four DIN A4 pages
 How does it work?
You write pieces (Amadeus Stories) on the topic of "Mozart lives! – and brings people together!" All types of word and image combinations are accepted (e.g. illustrated essay, comic, collage, illustrated short story, etc.).
You must document the pieces and submit them to us by 23 November 2018.
The creators of the best three submissions will receive special prizes.
Announcement of the winners
The awards ceremony will take place before Mozart Week in January 2019. The date will be announced.
What happens to the winning submissions?
The winning submissions will be displayed during Mozart Week 2019 and, subject to their suitability, printed in publications of the Salzburg Mozarteum Foundation.
Information and registration
Antje Blome-Müller
Schwarzstrasse 26, 5020 Salzburg
Tel. + 43-662-88 940 23
blome-mueller@mozarteum.at
Partner school
The selected partner school is the direct contact for the development of new projects within the Mozarteum Foundation's children's and youth programme.
This project aims to give schoolchildren the opportunity – by means of different genres and approaches – to find their individual connection to classical and contemporary music, to promote their creativity, to facilitate access to the Mozarteum Foundation and its music programme, and to provide an even more immersive experience with additional offers.
The Volksschule Parsch is the partner school of the Mozarteum Foundation in the upcoming season.
Schools interested in being a partner school can already register for the
2019-20 season.
Teachers' Club
The Mozart network for teachers
The active, year-round Teachers' Club, with many offerings and benefits for members, ensures the best possible cooperation between schools and the Salzburg Mozarteum Foundation.
A chance for teachers from in and around Salzburg to meet in a cultural context, to talk to artists, share experiences over refreshments, and make the diverse world of art more accessible to children. Members of our Teachers' Club are invited to special events, receive information about new projects before they are publicly announced and can be among the first to book events for school groups. We also offer individual support for teachers planning and implementing projects and visits to events.
Registration for the Teachers' Club is open all year. Please send an email to s.werner@mozarteum.at.