Mozart Residence
A-5020 Salzburg, Makartplatz 8
Tel: +43 (0) 662 87 42 27 40
Fax:+43 (0) 662 87 42 27 83
mozartmuseum@mozarteum.at
Opening Hours
Daily 9 am - 5.30 pm (last entry 5 pm)
July / August 8.30 am - 7 pm
A visit to Mozart's Residence takes about one hour and a half.
The Mozart Residence is accessible to wheelchairs via the Theatergasse entrance. Please ask at our cash desk for support.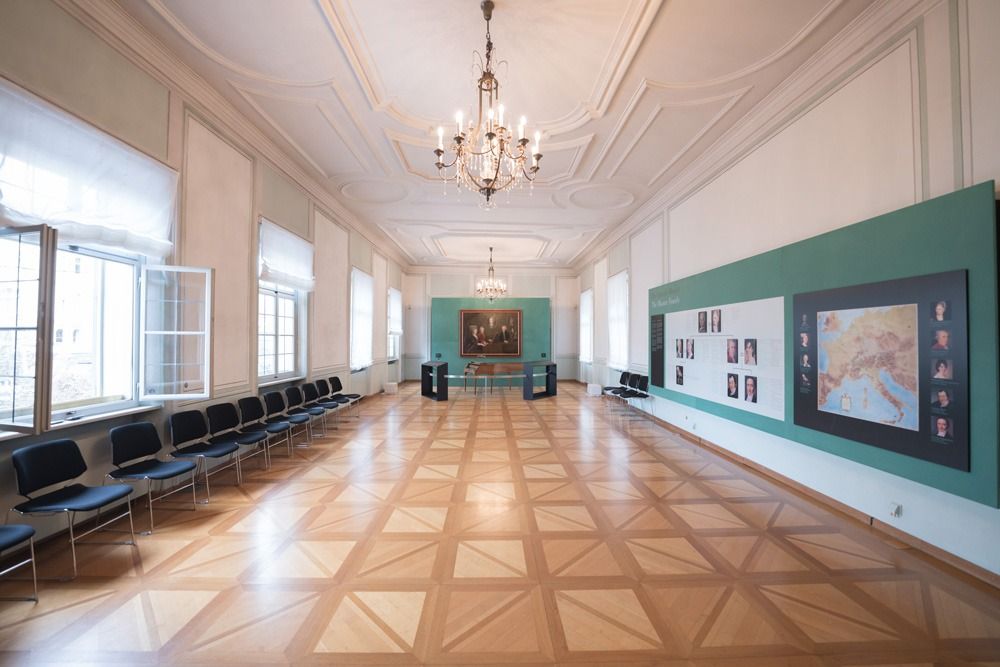 Mozart's Residence was reconstructed after being partly destroyed during World War II and was re-opened to the public in 1996. The biographies of the family members and the authentic impressions of everyday family life fill the house with their spirit to this day and allow visitors to experience Mozart anew. In the historic Dancing Masters's Hall Mozart's original instruments are on display.
Tickets are available online or directly at the box office in the museums!
Prices in parentheses are combined tickets for the Birthplace and Residence.
The combi ticket is valid for 24 hours beginning with the time of aquisitation. It is not transferable to other persons.
Those entitled to a reduction must prove their entitlement by means of a valid identification documen.
The admission fee does not include a guided tour.
Payment options: cash Maestro, Visa or MasterCard, JCB, Union Pay, American Express, Diners Club. The Salzburg Card is accepted here.
Mozart Audio-Visual Collection
The Mozart Audio-Visual Collection, which opened in 1991, is the largest specialized archive for sound and image recordings of Mozart's life and work. 33,000 audio titles (the oldest dates back to 1889) and 4,000 video productions can be played on site. Some musical works are available in more than 300 different interpretations. A further 16,000 Mozart recordings can be found in the online database. The collection includes interpretations of works, rehearsal recordings, documentaries and feature films, portraits, radio plays and children's films.
The Mozart Audio-Visual Collection is available during the opening hours free of charge.
Film screenings for groups are possible after prior registration.
Opening hours:
Monday, Tuesday and Friday, 9 am to 1 pm
Wednesday and Thursday, 1 pm to 5 pm
CLOSED on the following days:
Friday, May 20th 2022
Monday, May 23rd 2022
Wednesday, May 25th – Friday, May 27th 2022
such as on public holidays
Contact:
Mag. Stephanie Krenner
Mozart Ton- und Filmsammlung
Makartplatz 8, 5020 Salzburg
Tel:+43 (0) 662 88 3454 81
krenner@mozarteum.at
In the autograph vault in the basement of the Mozart Residence, the Mozart Foundation holds its most valuable holdings: more than half of all known documents associated with the family, including around 200 of Mozart's original letters (he himself is the main contributor to 150 of these and one of multiple contributors in the case of the other fifty), around 300 letters written by his father Leopold and more than 100 autograph music manuscripts, most of them sketches and drafts of Mozart's works in addition to autographs in the hand of Franz Xaver Wolfgang Mozart. The collection also includes scores, letters and other documents relating to numerous other figures from the eighteenth to the twentieth centuries. We are working hard to catalogue these holdings as part of various ongoing projects.
The autograph vault may be visited only in form of special guided tours.
Contact:
Dr. Armin Brinzing
Makartplatz 8, 5020 Salzburg
Tel:+43 (0) 662 889 40 14
brinzing@mozarteum.at
Why not visit the Mozarts?
Leopold Mozart special exhibition 5.4.2019-9.2.2020