Press
Christine Forstner
Internationale Stiftung Mozarteum
Schwarzstr. 26
5020 Salzburg
Austria
+43 662 889 40 25
forstner@mozarteum.at
Welcome to our press & media section!
Here you can download our latest press information and pictures. You do not need a password for the download of the pictures. However, we kindly ask you to leave us your name, the medium you work for and your email adress. We are also happy to add you to our press distributor if you send an email with your address to presse@mozarteum.at. On request we are happy to provide further press information as well.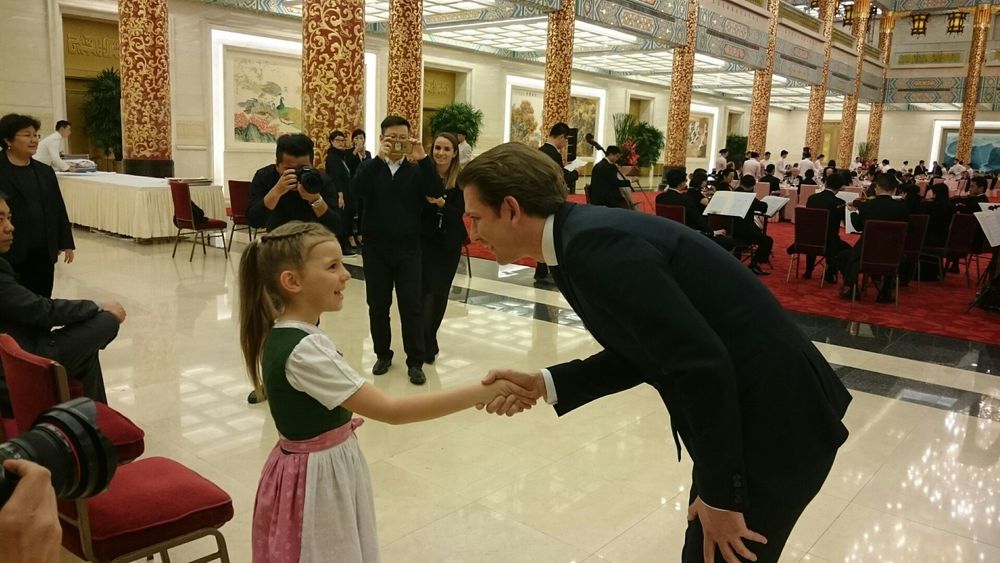 International attention for the Mozarteum Foundation's cultural ambassadors during the visit to China by Austrian President Alexander Van der Bellen
When Austrian President Alexander Van der Bellen travelled to China in July 2018, it was the most significant state visit in Austria's history to date. The involvement of the Salzburg Mozarteum Foundation in this visit was a complete success. The Foundation's cultural contribution was acknowledged by the international media, serving as a unique visiting card not only for Austria as a cultural nation but also for the town and region of Salzburg.
The original violin that Mozart used as a child was played with sovereign authority by the seven-year-old Anna Cäcilia Pföß at the state banquet in Beijing that was held in honour of the Chinese president, Xi Jinping. Accompanied at the piano by the Foundation's president, Johannes Honsig-Erlenburg, Anna Cäcilia Pföß played works by Wolfgang Amadé Mozart, including two minuets from his early Sonata K 7. They also performed a typical Austrian folk tune and, for their hosts, a Chinese folksong. In this way the Mozarteum Foundation, as one of our country's cultural ambassadors, was able to lend a very special musical note to this important Austrian foreign mission, at the same time allowing Austrian President Alexander Van der Bellen to offer his hosts an altogether exceptional gift. "We are particularly grateful to our little musician Anna Cäcilia, who is a talented, natural artist with steady nerves. As such she has the right qualities to capture the hearts of her listeners," Johannes Honsig-Erlenburg, the president of the Mozarteum Foundation, summed up the occasion, before adding: "We are delighted that our Beijing performance with the violin that Mozart used as a child received such an enormously positive response in the international press. It was reported by the media not only in Europe but also in South Africa and India and as far afield as Australia."
As one of Austria's cultural ambassadors, the Mozart Foundation was able forge and consolidate a number of important contacts in China. In concrete terms, we were able to take the first steps towards mounting a large-scale exhibition on the life and work of Wolfgang Amadé Mozart. The fiftieth anniversary of the establishment of political relations between Austria and China will be celebrated in 2021.
Resources