Press
Christine Forstner
Internationale Stiftung Mozarteum
Schwarzstr. 26
5020 Salzburg
Austria
+43 662 889 40 25
forstner@mozarteum.at
Welcome to our press & media section!
Here you can download our latest press information and pictures. You do not need a password for the download of the pictures. However, we kindly ask you to leave us your name, the medium you work for and your email adress. We are also happy to add you to our press distributor if you send an email with your address to presse@mozarteum.at. On request we are happy to provide further press information as well.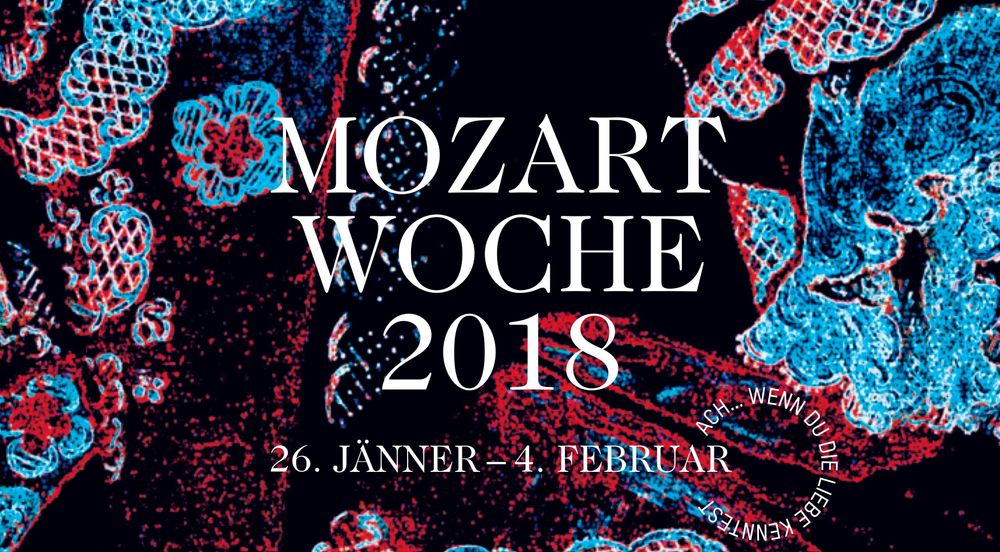 4 February, 2018
For the first time in its history the Mozart Week Festival was launched with an introductory event programmed by intendant Maren Hofmeister. The multi-award-winning writer Eva Menasse gave a scintillating talk on the theme of this year's Festival, "Forgiveness and Retribution".
After an interval of several years a major opera production returned to the stage in the form of Die Entführung aus dem Serail. Musically speaking, this new production set the highest standards, with René Jacobs conducting the Berlin Akademie für Alte Musik and an outstanding team of young singers, including David Steffens, Nikola Hillebrand, Robin Johannsen, Sebastian Kohlhepp and Julian Prégardien. In addition to a number of distinguished artists such as Sir András Schiff and Daniel Barenboim, all of whom can look back on a long history of appearing at the Mozart Week Festival, we were also able to welcome soprano Marlis Petersen, pianist David Fray, the B'Rock Orchester under Anna Lucia Richter, the Schumann Quartet and the conductor Kristiina Poska, all of whom were making their highly successful Festival debuts. A new area of our programme, "Portrait", was devoted to contemporary music and to the German composer, conductor and virtuoso clarinettist Jörg Widmann. One highlight was the Austrian premiere of his Clarinet Quintet. The concerts in the Großes Festspielhaus with the English Baroque Soloists under Sir John Eliot Gardiner and the three concerts with the Vienna Philharmonic were all sold out. The world-class Vienna Philharmonic has been a constant presence at the Mozart Week Festival since its inception in 1956, and this year two conductors made their acclaimed debuts with the orchestra: Robin Ticciati and Alain Altinoglu. The series of three concerts was brought to a magnificent conclusion by Valery Gergiev conducting a programme of works by Mozart and Tchaikovsky.
"I should like to thank all the artists for an unforgettable Mozart Week Festival that has revealed Mozart's manifold facets," declared Maren Hofmeister, before adding that "I am delighted that our audiences have reacted so enthusiastically to our 2018 programme, which was notable for so many contrasts. We have recorded a 95 percent capacity." These are the Festival's best attendance figures for six years. Some 26,000 tickets were sold for thirty events. Half of the concerts were completely sold out. The ten-day Festival attracted visitors from fifty countries and from all five continents. Most came from Austria, Germany and Switzerland, followed by France and Great Britain. All of our visitors showed a lively interest in the many ancillary events, including introductory talks, film shows and interviews with artists.
The next Mozart Week Festival will take place between 24 January and 3 February 2019. The programme may be found on our website www.mozartweek.at
Resources