Press
Christine Forstner
Internationale Stiftung Mozarteum
Schwarzstr. 26
5020 Salzburg
Austria
+43 662 889 40 25
forstner@mozarteum.at
Welcome to our press & media section!
Here you can download our latest press information and pictures. You do not need a password for the download of the pictures. However, we kindly ask you to leave us your name, the medium you work for and your email adress. We are also happy to add you to our press distributor if you send an email with your address to presse@mozarteum.at. On request we are happy to provide further press information as well.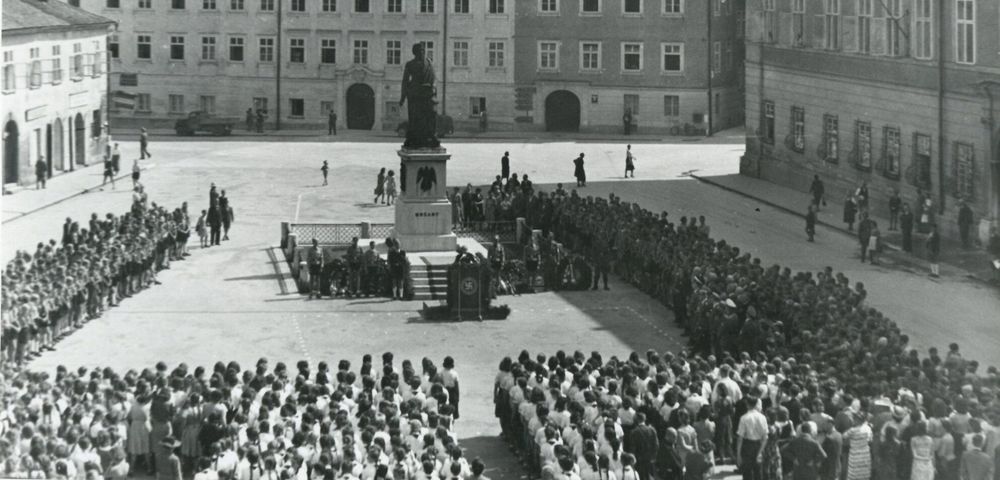 One of Salzburg's cultural institutions examines its role under National Socialism. Following the annexation of Austria by National Socialist Germany in 1938, the National Socialist regime appointed the regional governor of the State of Salzburg, Albert Reitter, as president of the International Mozarteum Foundation. The Foundation was required to remove the word "International" from its name and organize itself along authoritarian lines – historians use the term Führerprinzip to describe this fundamental basis of political authority according to which the respective leader's word was law. Reitter demanded that the Foundation play a particular role in National Socialist cultural politics, a role that was to resonate far beyond Salzburg itself. Attempts were made to acquire Mozartian memorabilia for the Foundation, and the celebrations that were held in 1941 to mark the centenary of its establishment were used to rebrand Mozart for the benefit of a war-time audience as a hero of "Aryan Germanness".
The International Mozarteum Foundation had emerged from the Cathedral Music Society and Mozarteum that had been established in 1841. For the last 140 years it has seen itself as the world's leading cultural institution that serves to cultivate Mozart's legacy. Under the scholarly guidance of Professor Oliver Rathkolb and Dr Alexander Pinwinkler (Vienna and Salzburg), it has spent many years researching this difficult period in its past. During the course of the project more than 16,000 pages of documents have been examined from its own holdings and from those of other institutions. The results of this research are now available in the form of a book.
Published by Anton Pustet Verlag, Die Internationale Stiftung Mozarteum und der Nationalsozialismus. Politische Einflüsse auf Organisation, Mozart-Forschung, Museum und Bibliothek documents the National Socialists' deluded belief that such goals are feasible and analyses the background to the fact that the Foundation's protagonists and employees were very willing to conform to National Socialist ideology during the years of the National Socialists' terrorist regime.
You can download the press information and (historical) photos here.
Photo book launch (from left): Gerald Klonner (Anton Pustet Verlag), Armin Brinzing (Director of the Bibliotheca Mozartiana), Johannes Honsig-Erlenburg (President of the International Mozarteum Foundation), Alexander Pinwinkler (editor), Oliver Rathkolb (editor), Erich Marx (Chairman of the International Mozarteum Foundation's Board of Trustees).
Resources