Press
Christine Forstner
Internationale Stiftung Mozarteum
Schwarzstr. 26
5020 Salzburg
Austria
+43 662 889 40 25
forstner@mozarteum.at
Welcome to our press & media section!
Here you can download our latest press information and pictures. You do not need a password for the download of the pictures. However, we kindly ask you to leave us your name, the medium you work for and your email adress. We are also happy to add you to our press distributor if you send an email with your address to presse@mozarteum.at. On request we are happy to provide further press information as well.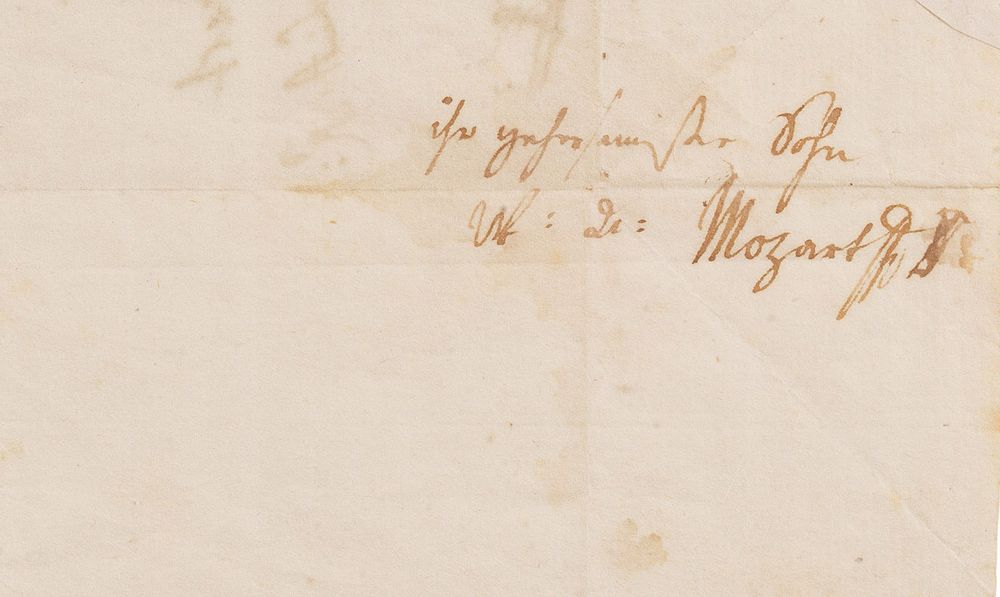 At the beginning of 2020, before the coronavirus pandemic became a pressing concern, a courier arrived in Salzburg from the United States of America. He had in his possession three letters written by members of the Mozart family that undoubtedly is the most important addition to the collection of original letters held by the Salzburg Mozarteum Foundation in recent decades. As a result of the current pandemic, we were able to publish only one of these letters online on Good Friday. This letter was addressed by Mozart to his "dearest, most treasured little wife" and was written to her from Prague during his journey to Berlin, Dresden and Leipzig in 1789.
The second letter was written in Bologna on 28 July 1770 during the Mozarts first visit to Italy and perfectly fits into the Foundation's extensive collections. The main body of this substantial letter was written by Leopold Mozart to his wife Anna Maria, who had remained behind in Salzburg, but it also includes a short postscript by Wolfgang Amadé Mozart, written in Italian and addressed to his "carissima sorella" (dearest sister), Maria Anna ("Nannerl").
But the most important of these new acquisitions is the touching letter that Mozart wrote to his father on 4 April 1787 after he had learnt that Leopold was seriously ill – by 28 May his father was dead. This letter is influenced by the spirit of Freemasonry, a movement to which Mozart felt deeply committed. It contains the famous lines:
"death | : when looked at closely : | is the true goal of our lives, and so for a number of years I've familiarized myself with this true best friend of man to such an extent that his image is not only no longer a source of terror to me but offers much that is comforting and consoling! – And I give thanks to my God that He has given me the good fortune of finding an opportunity | : you understand what I mean : | of realizing that death is the key to our true happiness. –"
After a long journey, this letter has now returned to the place to which it was sent almost 240 years ago. Only rarely does one succeed today in bringing such treasures back to Salzburg.
The letters are available in the Digital Mozart Edition:
Letter from Leopold Mozart to his wife Anna Maria (Bologna, 28 July 1770)
Letter from Wolfgang Amadé Mozart to his father Leopold (Vienna, 4 April 1787)
Letter from Wolfgang Amadé Mozart to his wife Constanze (Prague, 10 April 1789)
Here you will find the press release (including information in English and French) and images:
Resources