Press
Christine Forstner
Internationale Stiftung Mozarteum
Schwarzstr. 26
5020 Salzburg
Austria
+43 662 889 40 25
forstner@mozarteum.at
Welcome to our press & media section!
Here you can download our latest press information and pictures. You do not need a password for the download of the pictures. However, we kindly ask you to leave us your name, the medium you work for and your email adress. We are also happy to add you to our press distributor if you send an email with your address to presse@mozarteum.at. On request we are happy to provide further press information as well.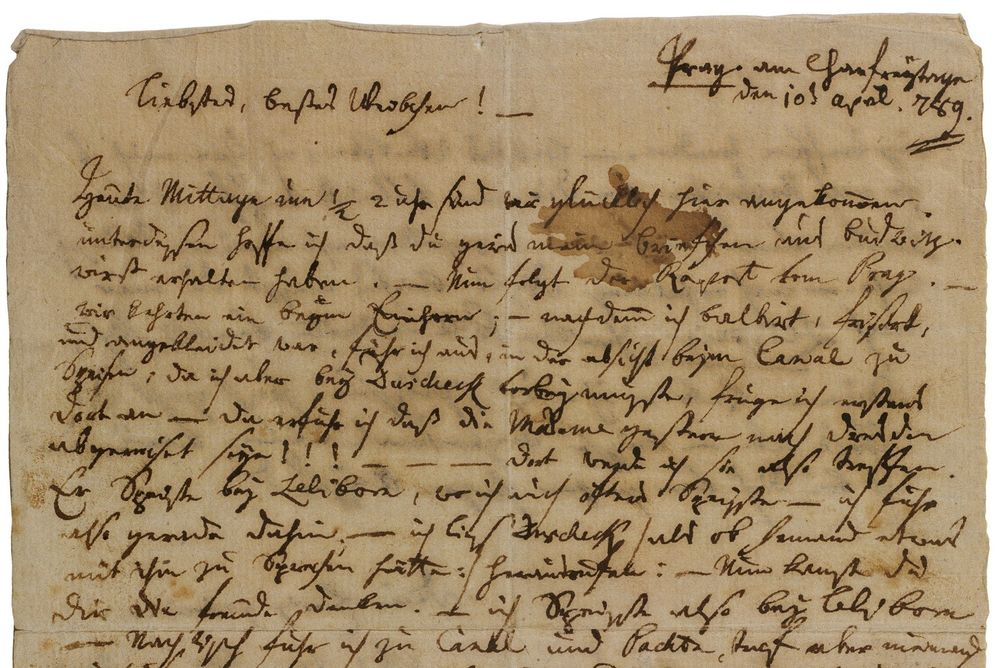 The composer Wolfgang Amadé Mozart rarely travelled far from Vienna after he settled there in 1781, and when he did, he was almost always accompanied by his wife Constanze. As a result the only surviving letters that the couple exchanged after they married for love in 1782 date from the years between 1789 and 1791. They offer us an opportunity to peer deep into Mozart's heart.
He left Vienna in April 1789 on a journey to Berlin that took him via Prague, Dresden and Leipzig. Mozart was motivated in the main by his desire to perform for King Frederick William II in Berlin – the Prussian ruler was a well-known music lover – but he also hoped to fill his coffers by giving concerts since the musical life of Vienna had suffered considerably since 1787 as a result of the latest Russo-Turkish War.
While on the road, Mozart wrote at least twice a week to his wife, who had remained behind in Vienna. In the course of these letters he reported on his encounters with mutual acquaintances and on his concert appearances. Particularly heartfelt and touching are the asseverations of his love, his petty jealousies and his concern for his wife's health. The letter that he wrote to Constanze from Prague on 10 April 1789 begins with a tender salutation "dearest, best little wife" and goes on to mention his meetings with a number of friends, a contract for a new opera from Prague that he says is "almost in the bag" but which in the event came to nothing, and rumours that the king of Prussia was expecting him in Berlin. Mozart also told his wife how much he was longing to hear from her and hoped to find a letter from her waiting for him in Dresden, the next port of call on his journey. His message home ends with the words "Kiss our Karl a thousand times and I you with my whole heart". The couple's son, Carl Thomas, was then four-and-a-half-years old.
This latest acquisition to the Foundation's collection is introduced by Ulrich Leisinger and Andreas Fladvad-Geier, respectively the Mozarteum's director of research and its artistic director:
The letter of 10 April 1789 was last sold at auction in the early 1990s. It is the first of the letters written by Mozart to Constanze during his travels to have been acquired a few weeks ago by the Mozarteum Foundation.
The letter is available online as part of the Foundation's Digital Mozart-Edition:
Mozart's letter to Constanze 1789
Resources