Press
Christine Forstner
Internationale Stiftung Mozarteum
Schwarzstr. 26
5020 Salzburg
Austria
+43 662 889 40 25
forstner@mozarteum.at
Welcome to our press & media section!
Here you can download our latest press information and pictures. You do not need a password for the download of the pictures. However, we kindly ask you to leave us your name, the medium you work for and your email adress. We are also happy to add you to our press distributor if you send an email with your address to presse@mozarteum.at. On request we are happy to provide further press information as well.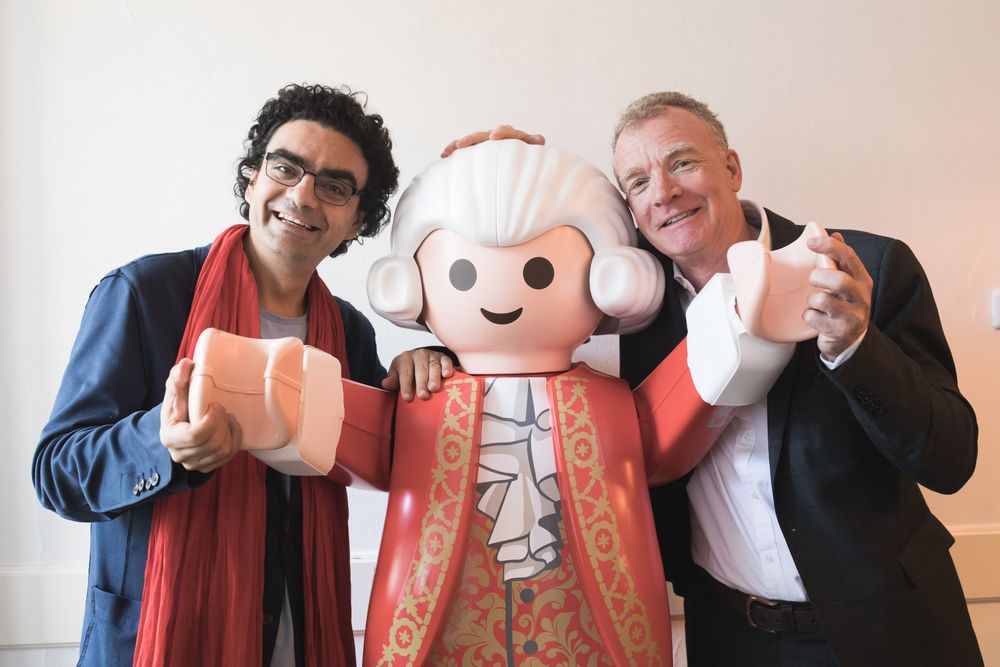 The Salzburg Mozarteum Foundation welcomes a new family member to its midst. In keeping with its obligations as the Mozart family's heir and its aim of making Mozart's music, life and personality accessible to everyone and to every generation, we have developed a new PLAYMOBIL Special Figure in close association with the geobra Brandstätter Stiftung Co. KG: the figure is Wolfgang Amadé Mozart. Equipped with a violin and bow, PLAYMOBIL's Mozart appears outside the house in which he was born and offers a delightful representation of the uniqueness of one of the greatest composers of all time.
For more than 250 years Wolfgang Amadé Mozart has fascinated people from all over the world not only through his music but also through his personality. The PLAYMOBIL Special Figure offers young and old alike playful access to Mozart's life and to his time in Salzburg. The figure has been created and designed by the Research Faculty at the Salzburg Mozarteum in order to produce as realistic a likeness as possible. Mozart is depicted in his original clothes, in a red jacket – with cuffs, of course – and with a decorative waistcoat and jabot (an ornamental ruffle at the front of a shirt or jacket that was fashionable at this time). He also wears a pair of black shoes with typical gold buckles. The white wig with a plait at the back was also in vogue in Mozart's day as a status symbol, with the hair tied at the back with a ribbon. All of these details in the design of the figure will delight not only PLAYMOBIL fans.
The Mozarteum Foundation is a non-profit-making organization. Proceeds from the sale of the Mozart PLAYMOBIL Special Figure will be used to finance multiple activities, all of which are designed to preserve Mozart's legacy. The Mozart PLAYMOBIL Special Figure costs 3.99 euros (recommended retail price) and is available from 4 November 2019. Retail outlets include the Mozarteum Foundation's museum shops in the house where Mozart was born and also the property in the Makartplatz where the family later lived as well as selected shops in Salzburg. It may also be ordered online at www.mozarteum.at and at www.playmobil.com as long as stocks last.
Resources