News
The latest news about everything happening in the Salzburg Mozarteum Foundation around Mozart Week, Season concerts, the Mozart Museums and the research about Mozart.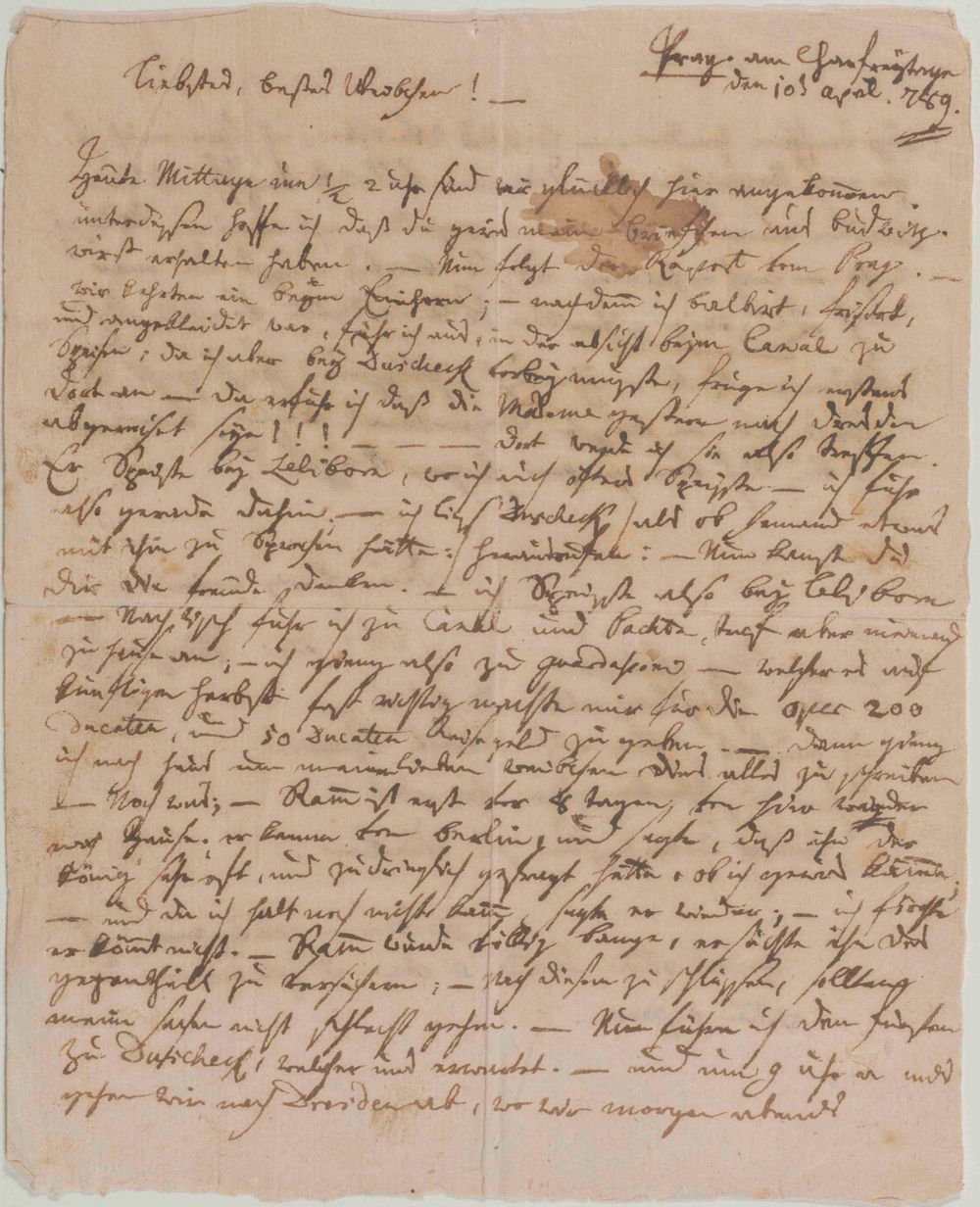 The Mozarteum Foundation Salzburg is pleased to announce a valuable new acquisition: a rare travel letter from Wolfgang Amadé Mozart to Constanze from 1789 is now part of the extensive collection of the Bibliotheca Mozartiana. On the few journeys Mozart made in his Viennese years from 1781 onwards, his wife almost always accompanied him. For this reason, there are only letter documents from the period between 1789 and 1791 for this pronounced love marriage. They offer the opportunity to look deep into Mozart's heart.
The letter is dated Charfreÿtage 1789 and comes from the journey to Dresden, Leipzig, and Berlin. During this trip, Mozart wrote at least twice a week to his wife, who had stayed behind in Vienna, telling her about encounters and musical performances. His proofs of love, his jealousies, and his concern for her health have a particularly warm effect. Mozart opens his letter from Prague on Charfreitage 1789 with a tender, dearest, best female! and tells of reunions with friends, an "almost" secure contract for a new opera for Prague (which ultimately came to nothing) and of rumors that the Prussian king was expecting his arrival. Mozart also lets his Constanze know how much he longs for a message from her and that he hopes to find a corresponding letter at his next station, in Dresden. Kissing our Karl a thousand times, and I am kissing you from the bottom of my heart, the message ends at home, to his wife together with their four-year-old son Carl Thomas.
The Mozarteum Foundation Salzburg owns the largest collection of letters from the Mozart family in the world. Most of them have been in Salzburg since the middle of the 19th century when the Mozart sons Carl Thomas and Franz Xaver bequeathed the original letters in their possession to the Dommusikverein and Mozarteum, the direct predecessor of the Mozarteum Foundation. However, Mozart's letters to Constanze were not among these precious gifts. Apparently Constanze Mozart never gave them to her sons, but rather gave them away to friends piece by piece. From time to time, one of these letters reappears on the market; they regularly reach six-figure prices per page written. The letter dated April 10, 1789, was last auctioned in the early 1990s. It is Mozart's first travel letter to Constanze which the Mozarteum Foundation was able to purchase.
Ulrich Leisinger and Andreas Fladvad-Geier, the Academic and Artistic Directors of the Mozarteum Foundation, present the new acquisition in this video: