Press
Christine Forstner
Internationale Stiftung Mozarteum
Schwarzstr. 26
5020 Salzburg
Austria
+43 662 889 40 25
forstner@mozarteum.at
Welcome to our press & media section!
Here you can download our latest press information and pictures. You do not need a password for the download of the pictures. However, we kindly ask you to leave us your name, the medium you work for and your email adress. We are also happy to add you to our press distributor if you send an email with your address to presse@mozarteum.at. On request we are happy to provide further press information as well.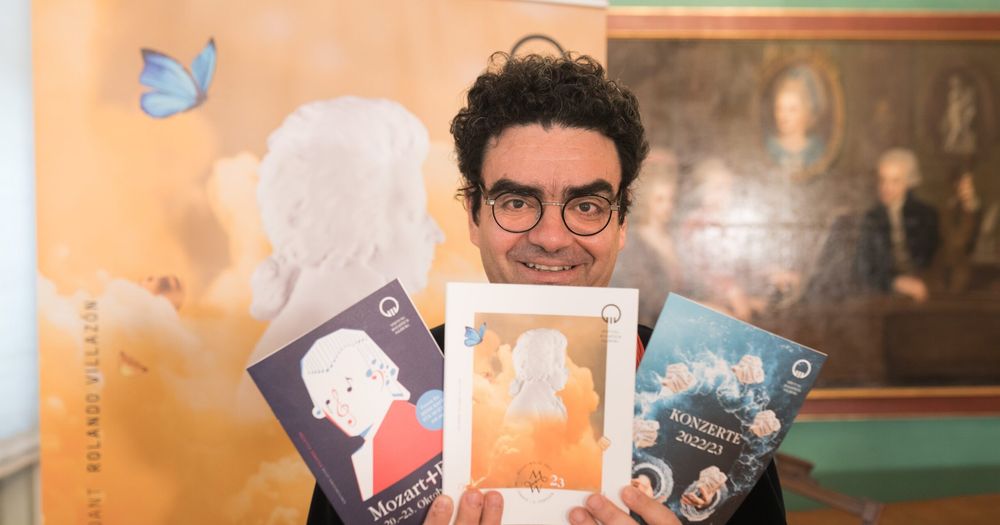 The 2023 Mozart Week Festival marks the high point of Rolando Villazón's five-year exploration of Mozart's universe. He will be opening a new chapter in his "Mozart Unadulterated" cycle, when he will be introducing audiences to Mozart not only as a child prodigy but also as a mature composer. "Mozart's incredible talent emerged at a very early date," the Mozart Week Festival's intendant Rolando Villazón explains. "We're focusing on the very early works and on the last great masterpieces, together with a few wonderful examples from the years in-between."

In keeping with its motto of "Unadulterated Mozart", the 2023 Mozart Week Festival once again draws deeply on the great composer's rich body of work and brings together a whole range of forms of expression, including music, the spoken word, theatre and the puppetry of which Mozart was especially fond. In this way his fascinating and multilayered personality will be brought to vibrant life. The world's most important Mozart Festival is this year offering some sixty performances, including a semi-staged opera, orchestral concerts, chamber music, marionette shows, films, interviews and much more besides. Families with children are also very welcome and can explore Mozart's multifaceted world through programmes tailored to every age group. Among the eminent Mozartians who will be travelling to the city of Mozart's birth in January 2023 are Daniel Barenboim and Martha Argerich with the Vienna Philharmonic, Radek Baborák, Elena Bashkirova, Ivor Bolton, Renaud Capuçon, Marianne Crebassa, Magdalena Kožená, Sylvia Schwartz, Sir András Schiff and his Cappella Andrea Barca, Andrés Orozco-Estrada with the Chamber Orchestra of Europe, Daniel Ottensamer, Jordi Savall, Emmanuel Tjeknavorian and Mitsuko Uchida, who is performing with the Mahler Chamber Orchestra. Intendant Rolando Villazón will also be appearing.

Mozart+Fest: 20 to 23 Oktober 2022

The reopening of the Mozarteum's concert hall following its recent renovations will be marked by a series of events showcasing leading figures from the world of classical music, including Anne-Sophie Mutter, Leif Ove Andsnes, Lisa Batiashvili, François Leleux and Rolando Villazón.

You can download the press releases, programmes and images in the download area below.
Resources