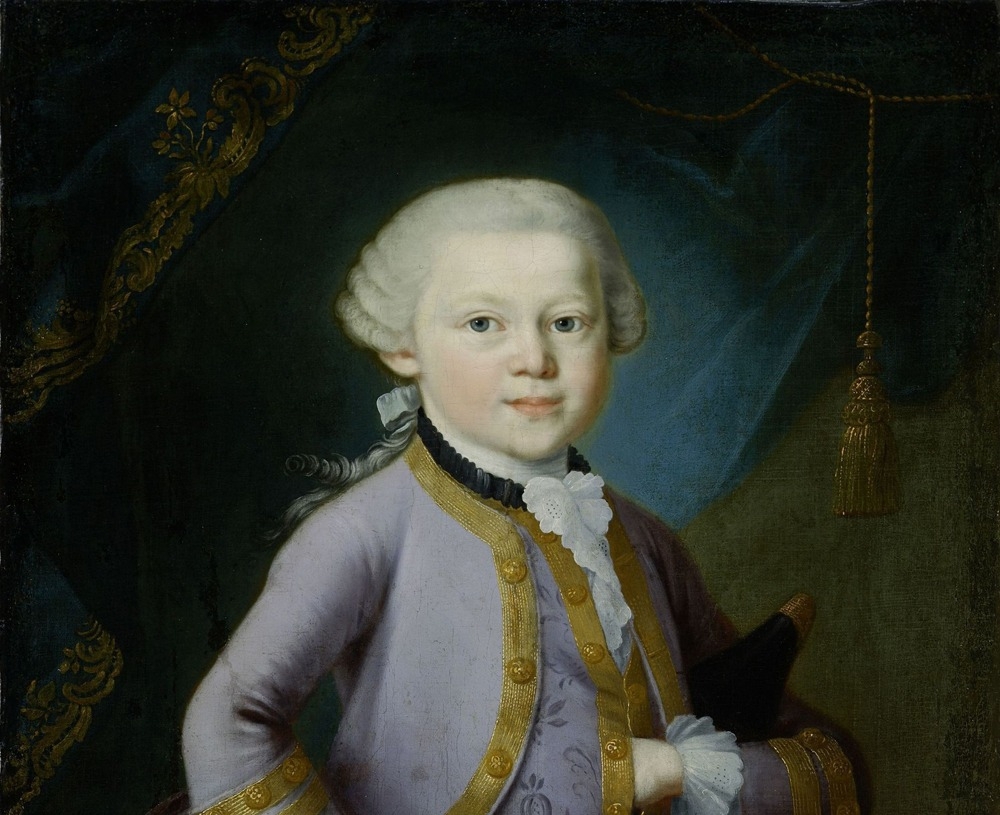 Wolfgang Amadé Mozart
1756–1766: Child prodigy years
Wolfgang Amadé Mozart (baptised Johannes Chrysostomus Wolfgang Theophilus) was born on 27 January 1756, seventh and last child of Salzburg court musician Leopold Mozart (1719–1787) and his wife Anna Maria, née Pertl (1720–1778). His only surviving sibling was his sister Maria Anna, called Nannerl (1751–1829), five years his senior. At the age of five or six, Wolfgang demonstrated his outstanding talent at the courts of Salzburg, Munich and Vienna. His success encouraged Leopold to undertake an extensive concert tour, with both children performing, and Wolfgang increasingly presenting his own compositions. Between June 1763 and December 1766, their journey included Paris, London, The Hague, southern and western Germany and Switzerland.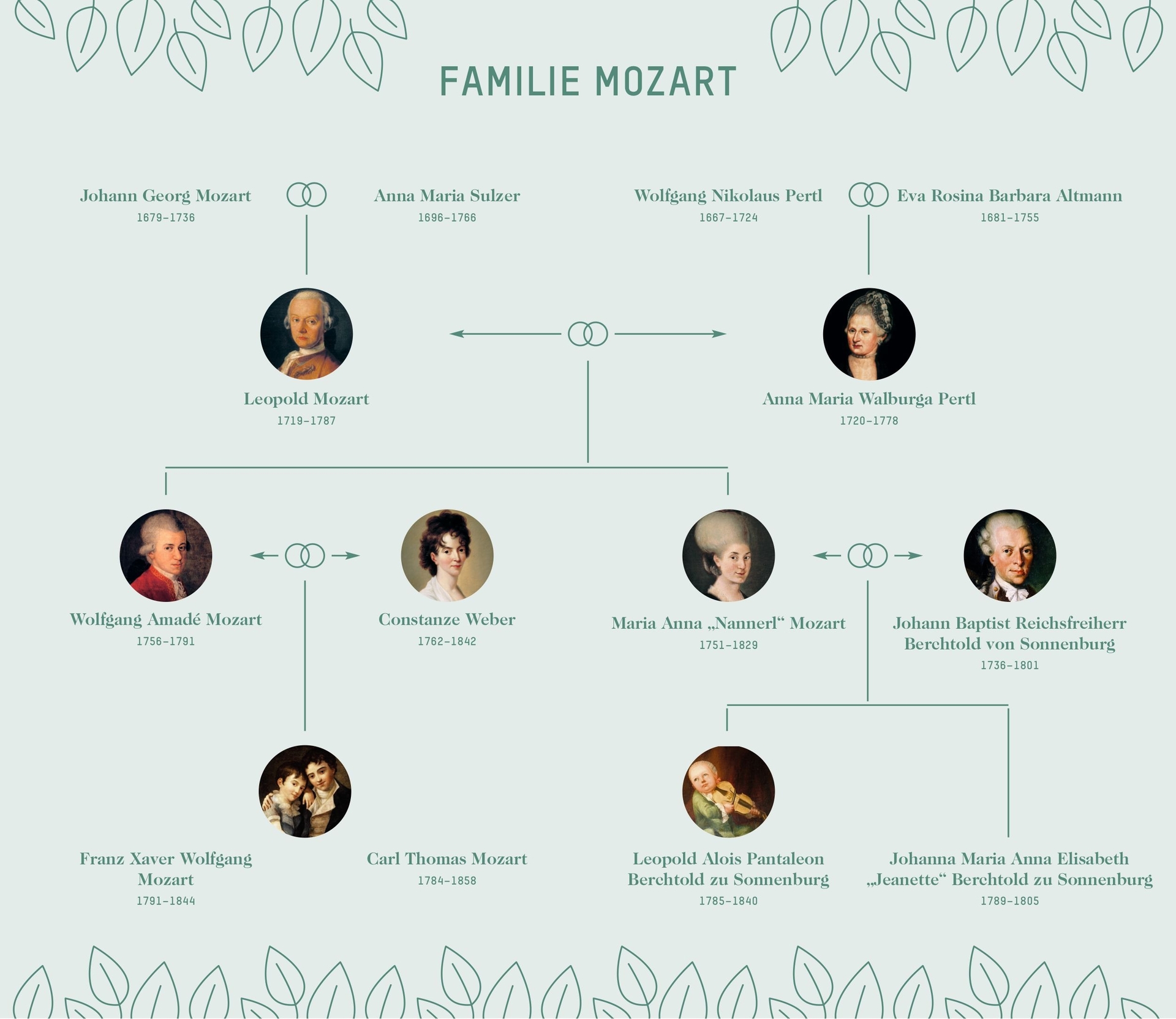 Mozart family tree
Leopold Mozart and Anna Maria had seven children, five of whom did not survive infancy.
Maria Anna ("Nannerl") lived from 1751 to 1829. Two children were born of her marriage with Johann Baptist Franz von Berchthold zu Sonnenburg.
Wolfgang Amadé Mozart was born on 27 January 1756. Two sons were born of his marriage with Constanze Weber (1762 – 1842). Wolfgang Amadé Mozart died at the age of 35 on 5 December 1791.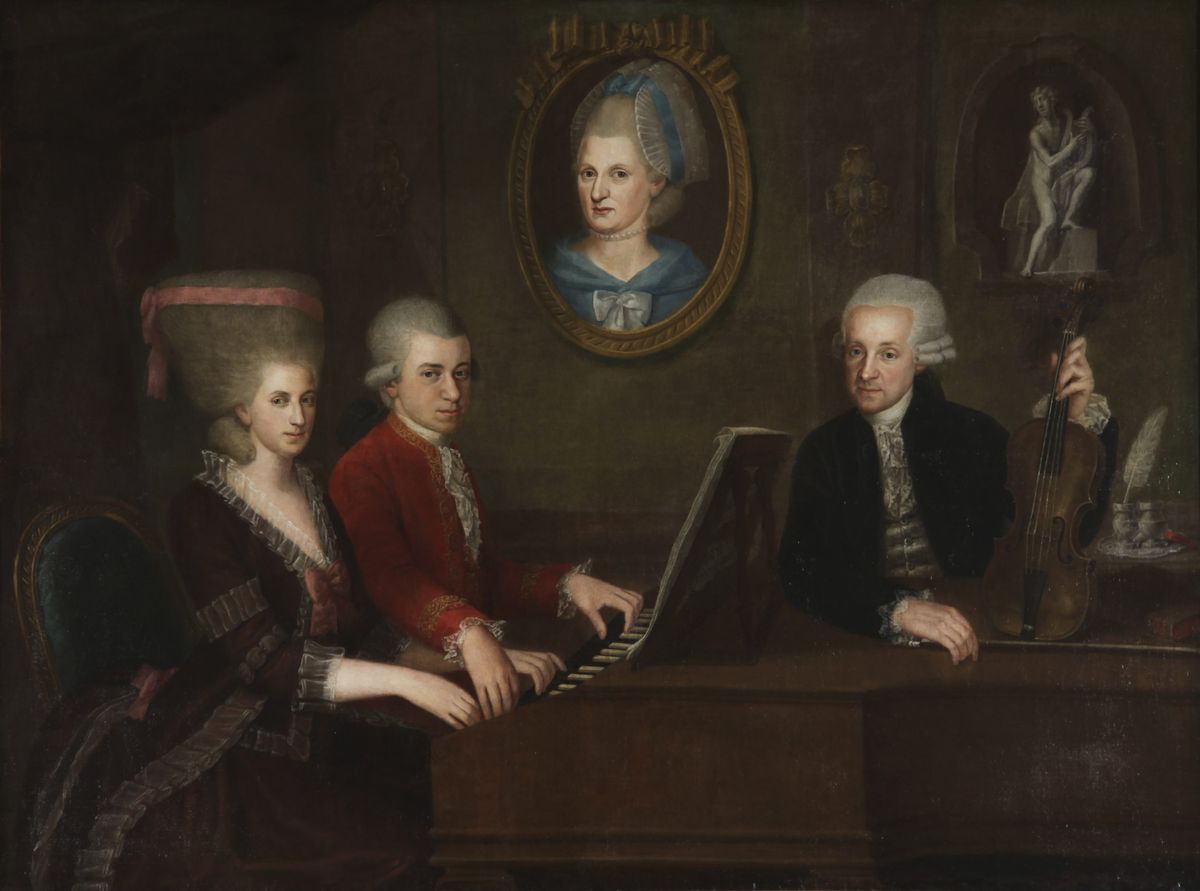 The Mozart family
Wolfgang Amadé Mozart came from a very musical family. At a very early age, he and his sister received music tuition from their father, himself a composer. The family was considered well-to-do.
The Mozarteum Foundation has a considerable part of the correspondence between Wolfgang and his family, which gives details about the relationship between the family members as well as about Mozart's work.
fun-facts-in-videos
Mozart's life, though short, is very rich in exciting stories and amusing anecdotes. We have picked up some of them and staged them as short videos.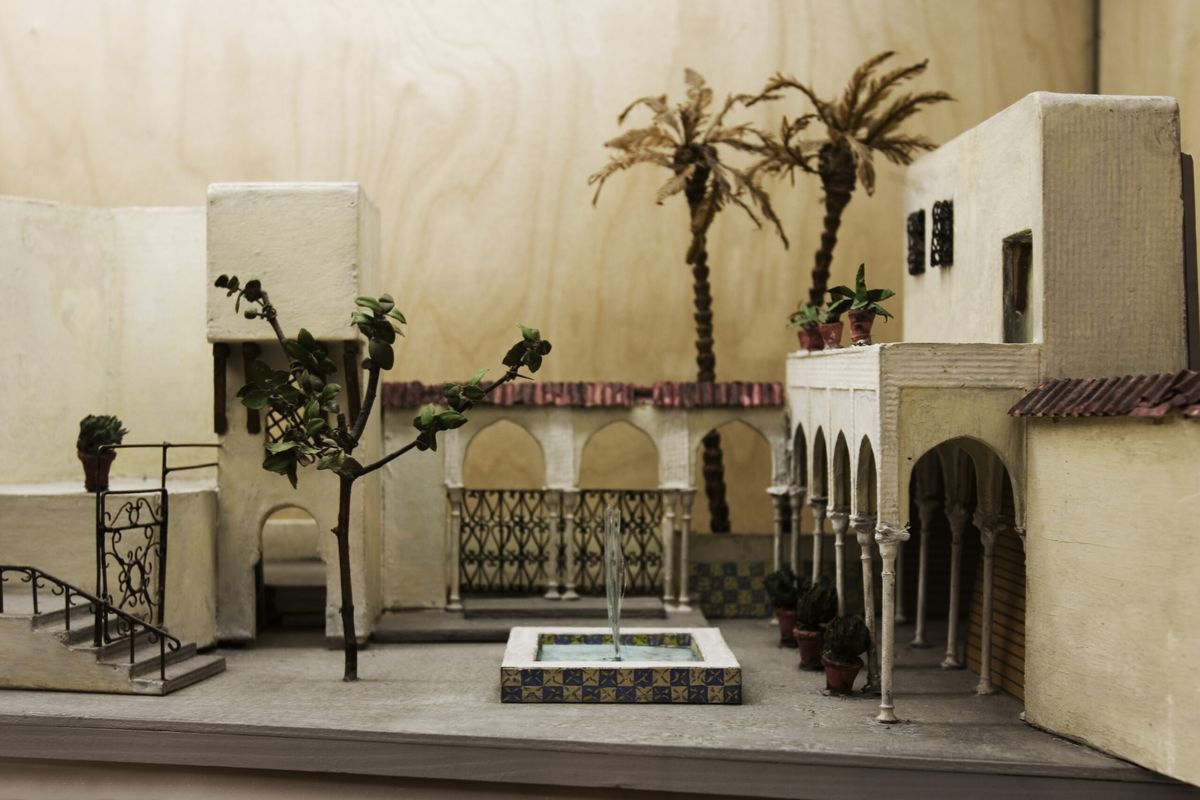 The great Mozart operas
Mozart wrote 22 stage works, the most famous including the Da Ponte series (Le Nozze di Figaro, Così fan tutte and Don Giovanni) and Die Zauberflöte [The Magic Flute], which was premièred shortly before his death.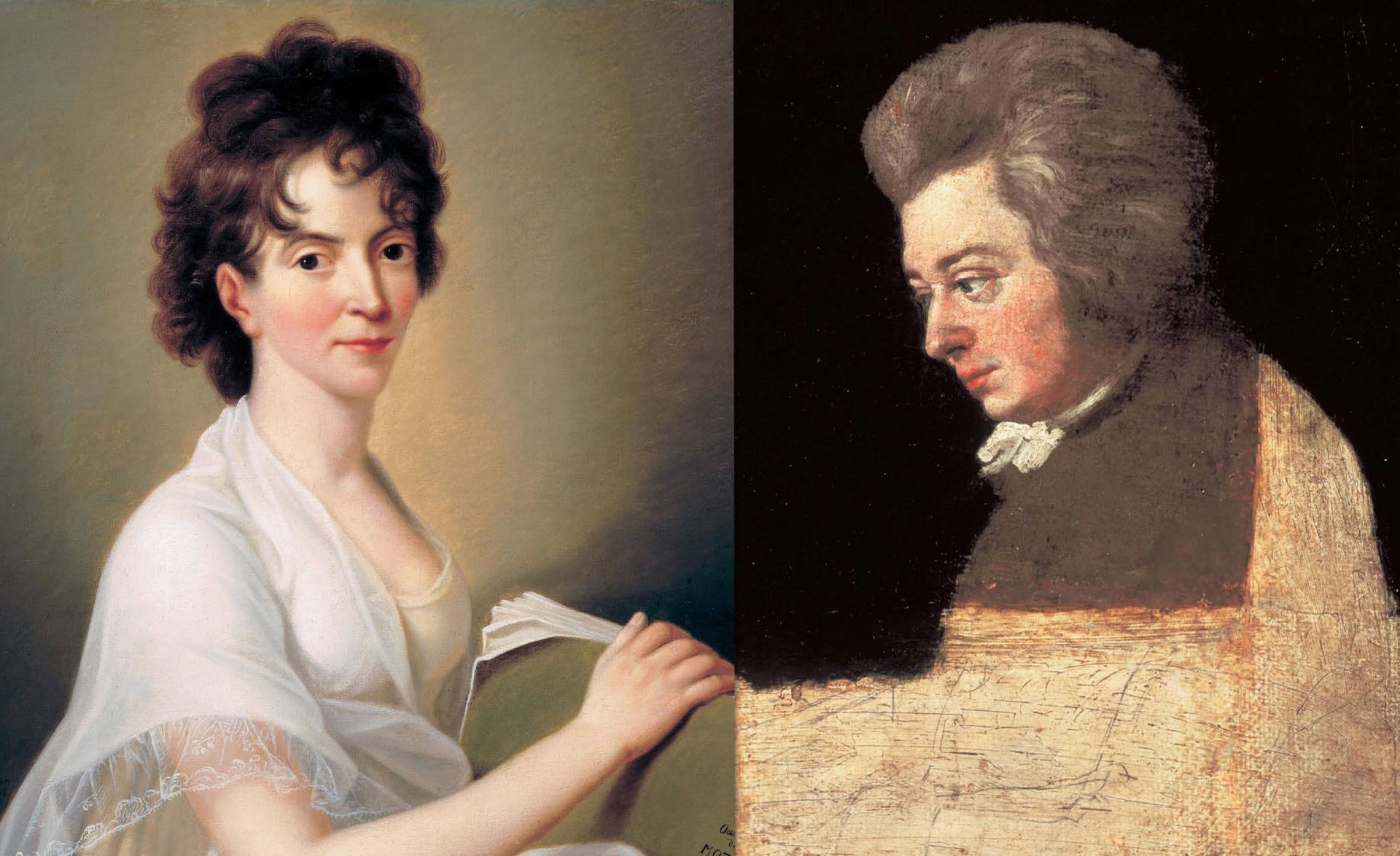 The marriage of Wolfgang and Constanze
Mozart and Constanze Weber first met in 1777 in Mannheim, then Rhineland-Palatinate (now Baden-Württemberg). Initially, Mozart had fallen in love with Constanze's sister Aloysia, eldest daughter of the Weber family of musicians from the Black Forest town of Zell im Wiesental. In 1781, he once again encountered the family , who had moved to Vienna. His adored Aloysia had in the meantime met and married another man, court actor and painter Joseph Lange. Mozart stayed with the family in Vienna for a time, during which he and Constanze grew closer, and the following year they married in St Stephen's Cathedral in Vienna. Their happy marriage and partnership, marked by love and mutual respect, lasted until Mozart's death. Many letters testify to Wolfgang's great love for his wife.
In 1799, Constanze herself admitted openly to the Leipzig publisher Breitkopf & Härtel that it was Mozart's many letters to his "dearest, best little wife" during their final years together that express "his abundant tenderness for me". Thirty years later, now twice widowed, she wrote to Friedrich Schwaan, Rostock music teacher and admirer of Mozart:
"I have had two most excellent husbands by whom I was loved and honoured – even, I have to say, adored; they, too were both equally loved by me with the utmost tenderness, thus I was twice completely happy." (Letter dated 5 December 1829)
Mozart's death
There are many myths and legends about Mozart's death on 5 December 1791, since only few facts are established with certainty through documents. Researchers are still puzzling over the exact cause of his death, but they are all agreed that it was not poison.
The entry in the coroner's report by his personal physician Dr. Closset stated that Wolfgang Amadé Mozart died on 5 December 1791 of "hitzigem Frieselfieber" [acute miliary fever]; this is not a precise medical diagnosis, but was in keeping with the official ordinance requiring a "brief notation of the manner of death" in the German language (i.e. not in Latin). For over 200 years, medical specialists have been attempting to determine the actual fatal illness, by means of contemporary accounts of the symptoms and the course of the disease (often written down much later) – with different results.
Also according to later reports, Mozart was consecrated in his coffin on 6 December 1791 at about 3  pm in front of the so-called Crucifix Chapel on the north side of St Stephen's Cathedral. That same evening he was taken to St Marx cemetery, in a suburb of Vienna some 4 km away. An ordinance forbade mourners to follow the hearse beyond the town boundary.
Like many contemporaries of similar status, Mozart was given a third-class funeral, as entered in the register of deaths of the Cathedral Parish of St Stephen under 6 December 1791. The costs were fixed according to surplice fees. Mozart was buried in an unmarked shaft grave (usually a grave with four or five other bodies); this was common at the time, and was not (as sometimes asserted) a "pauper's burial".
St Marx Cemetery was closed in 1874 and is now a public park. The Mozart monument erected there in 1859 was moved in 1891 to the main cemetery (Zentralfriedhof) to join the group of Ehrengräber [graves of honour].  Mozart's grave in St Marx, a pilgrimage site for many visitors today, was later marked by a cemetery-keeper, who used materials left over from other graves, so that Mozart could be remembered at the abandoned site. It is located on the site of the former shaft graves.